Converting Your Spare Room to an Office Workspace
31.05.2020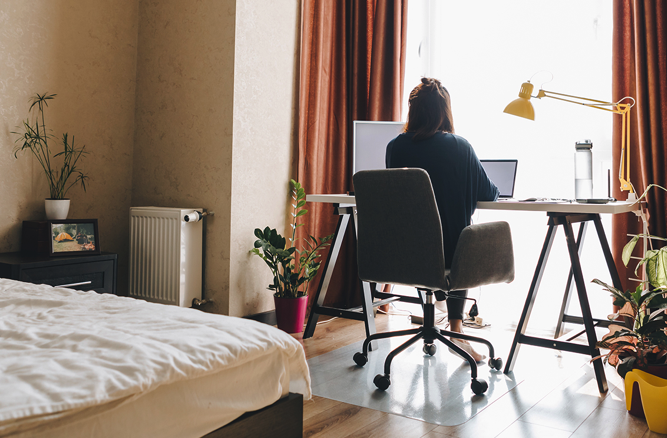 For the millions of us working from home, it has never been more important to create a productive work environment. This all starts with your very own home workspace; a dedicated area for remote working.
For many of us, this also happens to be our spare room, perhaps in the attic, or hidden in the garage. Even if you have a small space, your working environment plays a huge role in how productive you are, so it's important to ensure it is as conducive as possible to working, and that includes having the right equipment.
To help maximise your home office and get the most out of your working day, here's a few tips to consider, when converting your spare room.
An Outward Facing Desk
Your writing space is where you'll spend most of your time, so it's wise to invest in a desk intended for working. At the same time, think about where the desk is placed. Natural light is important for your wellbeing, as well as creativity levels, so an outward facing desk would be ideal if you're near a window or skylight.
Planning Area
A comprehensive survey* on working from home found that one of the most effective ways for employees to remain productive is to keep a to-do list.
Therefore, top of your home office essentials list is a weekly planner whiteboard or notice board.
Contrary to popular belief, most home workers find they work even harder than they might in the office. With this in mind, you'll want to remain organised when it comes to planning your day.
A weekly planning board is ideal for a small home office as it acts as a reminder to look ahead and plan your time accordingly. This will help you keep on top of your workload, as well as maintain a better work life balance with your time management.
Ergonomic equipment
Ergonomic furniture has become increasingly popular for those working from home. Simply put, you need to look after your body and posture, even if you're working remotely just once a week, get into a good habit.
This means investing in the right tools; from supportive desk chairs and workstations, to wrist support, and even the equipment you'll regularly such as a desktop whiteboard pad. A whiteboard pad fits perfectly between your keyboard and monitor, meaning that you don't have to stretch or move far to jot down notes and lists throughout the day.
Meeting facilities
You may find that remote working can be isolating at times, so planning video calls with colleagues is a helpful way to stay connected.
There're a few things to keep in mind here, such as an area with some privacy and in a place free from distractions such as young children.
You can also kit out your home office with some helpful tools such as a double-sided desktop whiteboard or mini whiteboard easel. These small whiteboards are versatile and free standing, allowing you to take notes with ease and move them from place to place easily. They're also
great for the environment, as the dry erase surface means that you won't be wasting half as much paper.
For sparking creativity
Working from your home office means that you'll have less heads to bounce ideas off. It may be one of the few disadvantages from working from home. This means you'll need to be a little organised when it comes to creative planning.
A tripod easel for instance, is a useful piece of kit for scribbling ideas on, brainstorming and planning ahead. It also has dual use as a magnetic whiteboard easel, or you can easily attach a flipchart pad if you'd prefer to save your notes on paper. If you have a small space, then look for one that is height adjustable and foldable, making it easy for storage as well.
Storage
On the note of storage, there's one thing you can't escape even when you're working from home - admin. Filing paperwork can take up valuable office space, with folders and spreadsheets, books and printers.
When you're planning your office space, think ahead to the layout and items in your room. There are many great pieces of office furniture that double up as storage, allowing you to maximise your space to its full potential.
You might also consider a small wall mounted glass whiteboard with a frameless design that's unobtrusive and doesn't clutter up your work area; they replace the need for post-its, multiple note pads and loose notes.
Sources: *https://www.businessnewsdaily.com/15259-working-from-home-more-productive.html